Sorry, I've been lagging again on updating our journey to Deutschland. Writing should be a continuous effort I must say (at least to me lah kan), because once I stop writing even for a day, I will surely have a difficult time to jump start my mood and to brainstorm ideas. Iskkk...
*A cup of coffee for this pregnant lady should be fine kan?*

I ordered decaf, konon-konon sedapkan hati. Hihihihihi.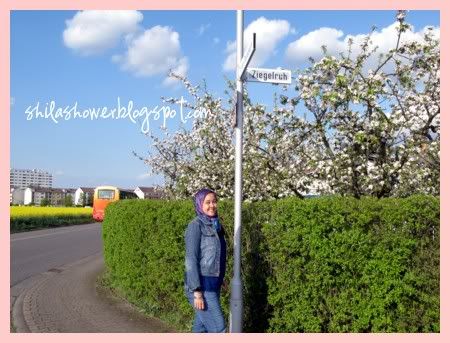 For all 6 days in Germany, we stayed in a small town called Babenhausen. It is a small romantic town in the Darmstadt-Dieburg district in Hesse, Germany.
*Hesse tu kira negerilah dalam Germany*
:)
I love everything about that place even though it is located approximately 30 kilometers away from Frankfurt city center. The neighborhood is extraordinary calm and relax and how I wish to have such quiet living environment here in my home country.
*Tskkk, tak dapatlah dekat Kepong nih kan*
Babenhausen houses a number of historical buildings mainly the castle that was built in 12th century, windmill, city wall with witches tower and 550 year old beautiful pyramid oak.
As for public transportation, there is a railway station located in the middle of town connecting the place to other few major railway stations which one of it is Frankfurt Hauptbahnhof. Worry not, their timetable is perfectly punctual! Not even a delay by single minute!
Impress hokey nak banding dengan KTM Komuter kan. Ehehehehe.
Owh ya, just in case you are travelling in a group using public transportation in Germany, please get a Gruppenkarte
(group ticket for a max 5 persons per ticket)
as you can save a lot from purchasing an individual ticket. Furthermore, you can hop onto any of the public transports in that district within 24 hours.
*So hentamlah naik train, bus, tram semua guna satu ticket*
:)
Well, I don't have much to say about this small lovely town as like I said, the place is very homely and away from hustle bustle city life. But all in all, I still love the place despite being located so remote from the main city, Frankfurt.