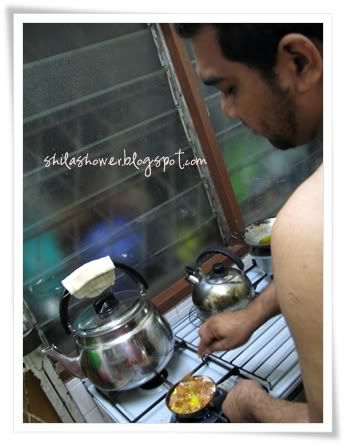 Well, my husband is not a chef *obviously* but he is a pretty good cook. I love when he cooks simple dishes like Ayam Masak Asam or Scramble Eggs Macam-Macam Ada and I think it's sweet because it doesn't happen so often. =P

*Men need little praising sometimes kan? hehehehe*
But there are times when he starts experimenting with his own self created recipes which I wonder how the food taste like. Seperti menghumban segala sauces and herbs that came to his sight and so yeah, eat with your own risk to kamar kecil. Hihihihi. But don't worry because that hasn't killed anyone yet. =P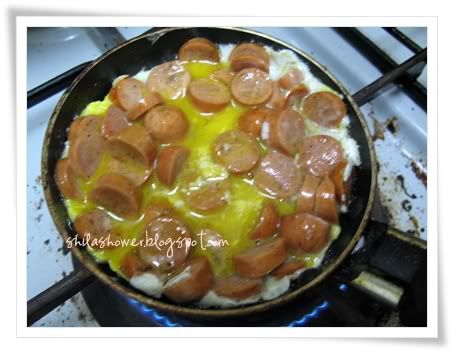 Above is one of the example of his self created recipe. Half cooked egg with sausage eat when necessary. Well, don't ask me why the name is so but that eat-when-necessary tu mungkin sesuai untuk sesiapa yang constipate and perlu membuat big business dengan kadar segera. Again, eat at your own risk.
One good thing with my extra hands that I have is he never leaves the kitchen in mess.
Sudah masak, siap basuh lip lap lip lap lagi.
Owh, another life fact to share: he loves washing dishes. ;) And I'm blessed to have such a husband :) I think we made a good combo: he cooks, she bakes, no?? But I keep the "she bakes" part for another entry ya. Baru sudah mencoba
"Famous Amos $250 Cookies"
recipe and glad that it turns out good. Well, not exactly taste the same as the original recipe but definitely taste better than those ordinary hari raya choc chips cookies recipes and worth baking!
P/S: It's a fun thing when you get to cook together even if you are not good at it. It's a simple way to grow more love than to use your kitchen and cookery stuff as marital destruction seperti membaling periuk belanga and such.