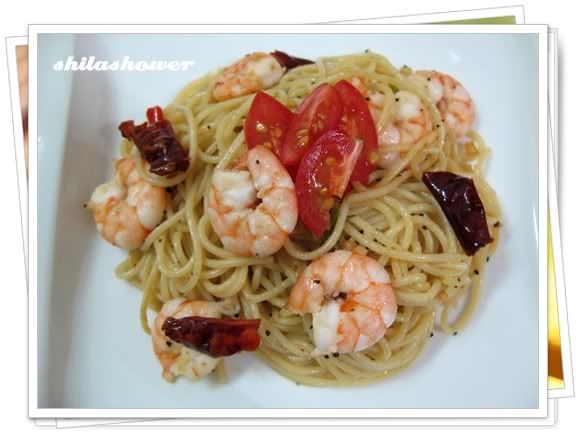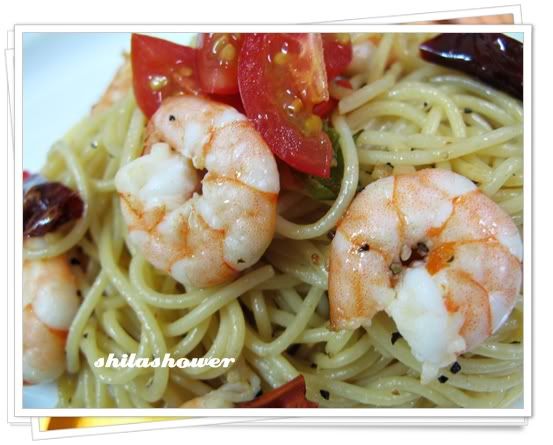 My favorite pasta dish and the best of all, it's quick and easy to prepare. Easy lah, even somebody like me *ehem who rarely cooks* able to do it, deliciously. :P Owh! Very budget friendly too. Hihihihi...
So here goes the recipe and trust me, it should take no longer than 15 minutes to get it done :)
3 cloves of garlics *crushed*
Dried chillies *because I don't have chili flakes in my kitchen*
Prawns *peeled and cleaned*
Salt *to taste*
[How to]
1. Cook spaghetti in salted water. Add 1 tsp olive oil. When ready, let it cool, drain and set aside.
2. In medium size frying pan, heat 3 tbsp extra virgin olive oil (low heat).
3. Add garlic and cook until light brown (don't overcook).
4. Add prawn and cook it until lightly pink and just firm.
5. Toss spaghetti in the pan and mix thoroughly.
6. Season with black pepper coarse and salt to taste.
7. Add cherry tomatoes and you are done!