Seriously, my weight progress has been stagnant at 76 since March. No weight loss even with an additional tough mommy job (subject: Aiman Haris) in my daily routines. My Jeneral no.2 has become very mobile and super lasak and that makes every changing and bathing and sleeping time a wrestling match. Aiman is totally the opposite of my Mr. Sweet Adam Haris as my second born is much harder than the eldest. Fine. No two sons are alike. By the way, he fell off the bed twice and countless of punching his big brother too. Ouchh eyh? And he is not walking yet, not even crawling pun. But after all the wrestling session, why I didn't lose one single kilo pun ni Aiman??
Ok, there were times when my diet gone terbabas to Waroeng Ayam Penyet or Starbucks or Tony's Romas and stuff like that but it didn't happen so often pun.
Jogging? Got no time for that. Plus, sekarang asik-asik hujan. So strike that off the list. *Temporarily* Hopefully ~__~
Usana? Herbalife? Yeah, been thinking about this supplement drink because that the cheapest option I have so far.
Healthy diet? Always clueless about what to be considered as healthy. Subway sandwich with extra chili and mustard and sweet onion sauce? *salivating already* Or mihun sup? Fish ball soup? Grilled chicken? Those meals are too costly to be consumed everyday. Masak sendiri? Blahhh, I don't even have time to cook Maggi pun.

In denial tak reti masak.

:/
Premium Beautiful? Good stuff but expensive. Expensive because I can't afford to change one size after another. Already have it tapi sudah longgar daaa....Most importantly, I have two kids yo, so to spend a hefty amount for a corset (again!) is a serious matter that need to be timbang-tara very deeply. Unless ada yang bermurah hati nak sponsor, nanti I jadi ambassador. Hahahha. Ok kidding.
Slimming Centre? I've checked with Bizzy Body. Sumpah tak tipu. The Ambassador package going to cost me around RM3600 for a complete treatments from detox to shaping and firming. Unfortunately, this is even more expensive than the above subject, so yeah, sila berangan saja. But one thing that I like about this place *Kepong branch*, the beauty consultant didn't force me to subscribe the package or to place a deposit to sort of locking the package AND she didn't portray me as the ugliest mommy of two on earth. Because Slimming Sanctuary did that to me. Keji betul.
Please help me. I seriously want to get kurus. Mak nak pakai baju pesyen masa Hari Raya nantiiii.
It looks like everything so expensive. Hmphhhh...I guess I should start ganti my puasa first because who knows maybe this would work on me, at least to shed 1 or 2 kilos off my body.
So puasa. Ganti puasa. 20 hari. *pengsan!*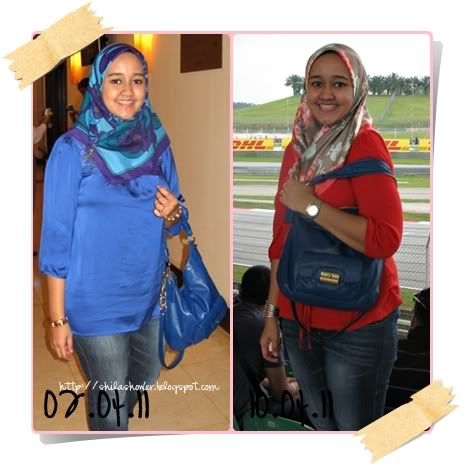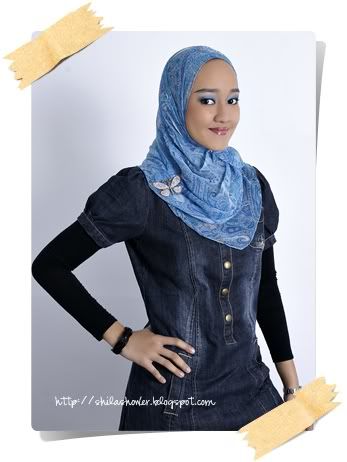 2 weeks before my wedding (14.05.2008) Hmpphh, maybe I should print this into A1 size tampal dekat dinding buat pembakar semangat!
*emo tahap dewata raya tengok gambar ni okeh. emo!*